Cock Ring + Ball Stretcher
Enjoy greater erections while increasing pleasure and sensations
The Cock Ring + Ball Stretcher is an easy to use sexual enhancer with powerful capabilities
Designed to help you last longer in bed while creating firmer and harder erections
Increases personal pleasure while improving your sexual stamina
The soft skin TPR is soft to the touch and stretchy enough to handle most men
Adds the perfect amount of weight to gently pull your balls away from your body
Intensifies stimulation for harder and more explosive orgams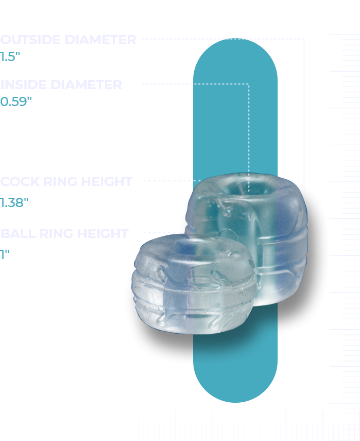 Performance and pleasure in a single package
The ultimate male enhancement ring designed to promote healthy sexual function
Enjoy the dual pleasure of stimulating your shaft while gently tugging your balls away from your body
Intensifies stimulation for harder and more explosive orgasms
Designed to help prolong ejaculation for longer and more enjoyable sex
The ultra-stretch fit is capable of handling almost all size men
Can be worn under clothing to enhance the look of your bulge
A great solution to treat testicular retraction
The sleek design is comfortable to wear for extended periods of time
Safe to use with all water-based lubricants
Can be cleaned quickly and easily with warm water and soap
Cock · Ring · + · Ball · Stretcher
REVIEWS
Cock Ring + Ball Stretcher
Slightly too small
The larger loop, with the nubs, feels great around the balls, but the smaller loop is just a bit too small for the un-stretchyness of the material, and is painful to put on and remove even for the not well endowed.
Erection Enhancer Cock Ring & Ball Sling for Men by Master Series
WANT SOMETHING DIFFERENT?
CHECK OUT THESE OTHER OPTIONS.
Cock Ring + Ball Stretcher