Ergo Grip Hand Pump + Precision Air Gauge
Ergo Comfort Grip KEY FEATURES & FUNCTIONS
High-performance pistol grip pump accessory
Made with industrial-strength lightweight polymer
Designed for maximum comfort for small & medium hands
Includes an easy to read vacuum air gauge for precision pumping
Includes silicone hose with male quick disconnect air fitting
The built-in quick release air-valve is designed to keep you safe
Connects to all modular penis pump systems with disconnect fittings
Can be quickly removed from pump cylinder while maintaining air pressure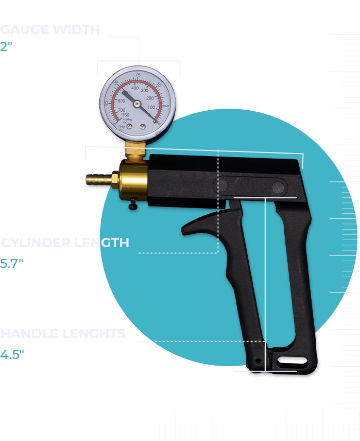 High Performance Pumping Gear
The comfortable and ergonomically designed grip is perfect for small and medium sized hands
Specifically designed for effortless pumping with frictionless components
Perfectly suitable for those with limited grip strength
Extremely durable material that can handle rough movement and use
Solid brass and steel vacuum cylinder construction
Built-in vacuum level gauge for precise and accurate pumping
Anti-air leaking technology keeps pumping results consistent
Includes a quick release safety air valve
Not designed for use with water
Ergo · Grip · Hand · Pump · + · Precision · Air · Gauge
REVIEWS
powerful
this trigger pump works so much better then the bulb type, it pumps much quicker also.
Deluxe hand pump
Very satisfied . A quality product
Update
I purchased this pump handle 3/29/2019. After almost two years the pump stopped working. It was fantastic while it lasted.
WANT SOMETHING DIFFERENT?
CHECK OUT THESE OTHER OPTIONS.
Ergo Hand Pump + Air Gauge