The Champion Automatic Penis Pump for Men
The Champion Key Features & Functions
Oversized LCD screen for easy reading
Built-in rechargeable battery w/ charging cable
Four powerful workout speed settings
Quick release air valve for added safety
Quiet motor for minimal distraction
Disassembles for a more thorough deep clean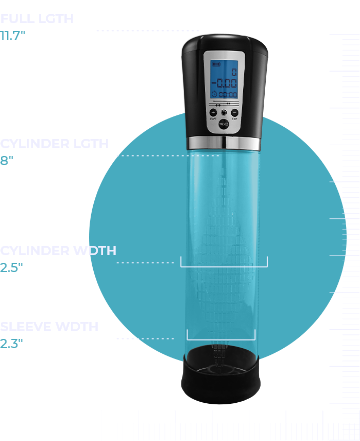 Pump up your confidence with the perfect erection.
The ultra-quiet motor provides minimal distraction while producing massive amounts of power
4 unique speeds and settings to power your erection enlargement
Easy to read and control through the oversized LED digital display
With the built in measuring gauge on the cylinder you can watch your growth in real-time
The single hand controls to help you change pressure easily
Includes a quick release air valve safety valve for peace of mind
Airtight seal to help you get hard at maximum speed
Never worry about dropping thanks to the no-slip grip finger grooves
Features a pure silicone pump sleeve and anti-air leak technology for a seamless seal
Helps create thicker and harder erections with improved sexual stamina
Latex-Free · Phthalate-Free · Body-Safe
The · Champion · Automatic · Penis · Pump · for · Men
REVIEWS
Does what it says...but
This device performs well, and does everything its seller claims it will do. Only fault I find is that it lacks a feature that I think would be beneficial for the user. It's pre-programmed to range from a low negative pressure to a higher negative pressure and then immediately drop slowly to the original pressure, and then go back up, etc. You cannot make the pressure hold at any given point. Maybe there's a good reason for that, but I don't know one. The company was good to deal with. Responded to my queries immediately.
Make it big and proud! You won't be able to get your hand around it!
Got the Champion pump after researching pumps once again. I went from homemade to the Penomet hydro pump to the male hanger to the Champion. The Champion buried the Penomet in every way. I haven't blistered or bulged unevenly. I've used it for 8 days on the '4' high setting for 30 minute sessions once per day and it comes in at 7.5" long and presses against the 2.5" diameter each time, I'm hoping consistency wins this race because the flaccid girth stays a lot longer than with the Penomet and no blistering of the skin. This pump is well worth trying. Doesn't break the bank and really does the trick. I can't wait to try the new size on a willing participant. If you've never tried a vacuum pump, you gotta try this one.
Excellent value
The four choices for suction make this a great value over higher priced units. An adapter for slipping on a cock ring would make this a solid 5 star device
GET THE CONSTRICTION RING BONUS.
Adding a constriction ring post pumping is recommended by doctors and sex experts around the world due to the ultra low-risk performance enhancement effects. If longer-lasting, girthier erections are what you are looking for, make sure to use a c-ring with your pumping routine.
THE SILICONE DIFFERENCE.
The pure medical-grade silicone we use in our products is non-porous, which means it's easy to properly clean and won't harbor unsafe bacteria. Our durable liquid silicone is also free of harsh chemicals, so you can use them as long as you want without the risk of infection.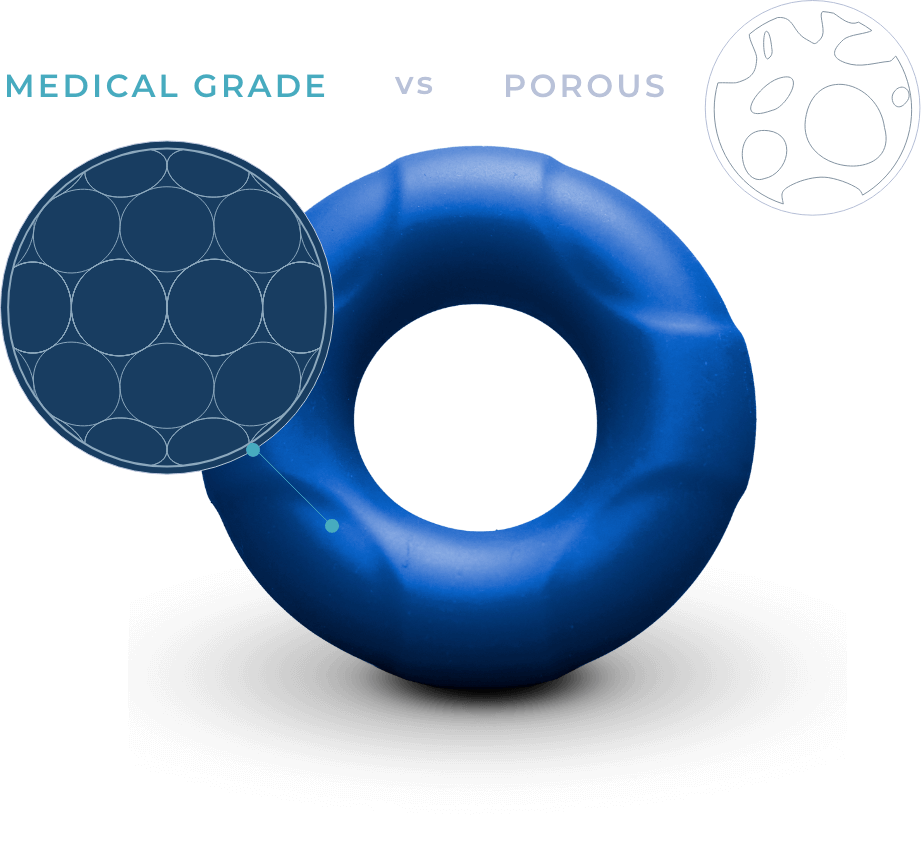 PENIS PUMPS WORK.
HERE'S WHAT TO EXPECT
The science behind penis pumps
A penis pump works by creating an airtight seal around your penis, and then removing the air from the chamber. That process creates a vacuum, and the pressure in that vacuum pulls more blood into your penis — just like a natural erection.
Shrug off erectile dysfunction and go to town.
Since penis pumps work by using physics rather than stimulation, ED can't stand in your way. According to WebMD, up to 80% of men with ED are happy with the results of their pump. And the other 20%, well, they're probably using the wrong pump.
Safety features that give you peace of mind.
Fearlessly push your limits while working yourself out. The Champion has a patented quick-release valve that can relieve vacuum pressure in less than a second, so you'll never have nagging injury concerns in the back of your mind.
WANT SOMETHING DIFFERENT?
CHECK OUT THESE OTHER OPTIONS.
The Champion Auto Penis Pump